Microsoft had their Xbox 360 Media Briefing earlier today, the highlight of which is, of coarse, Microsoft's newborn brain baby Kinect (formerly Project Natal, hitting North America November 4, 2010), a controller-free, motion-activated system for the Xbox 360. But before getting into that, let's pull back and go over some of the other highlights.
- Alan Wake
, which was released just last month, is already a hit game, with stellar reviews. Well, July 27, the first piece of downloadable content, Episode 7 "The Signal" will be available for free if you bought the game new (look for a coupon in your case).
- Gears of War 3
, set for release in April of 2011, will offer up 4-player multiplayer. The gameplay footage looked to follow in the tradition of it's predecessors, with a couple sweet looking new foes and of coarse, the female Cogs as playable characters.
- The much anticipated new
Halo
title,
Halo Reach
, whose mutliplayer beta was the largest in console history, will feature for the first time in the franchises history, space combat.
- Personally excited about this one,
Fable III
, set five decades after the conclusion of
Fable II
, looks to bear your typical RPG plotline, two brothers, one grows into a corrupt king, the other (our protagonist, of coarse) grows up secluded in the country, and must rise up to overthrow his evil sibling... Also, the collector's edition comes with a Boxer!
- For all you FPS fans, there was a tantalizing first look at gameplay for
Call of Duty Black Ops
(which hits 11.09.10), including what is presumably an opening scene, where you crawl through a tunnel, and a helicopter flight level. Per a recent three-year licensing agreement between Microsoft and Activision, as of the November release of
Black Ops
, all
CoD
add-ons and map packs will be launching first on the Xbox 360.
- Metal Gear Solid Rising
, the latest from Kojima Studios, looked pretty hack-and-slashy on the surface, but you DO get to cut a van in half, which is always a plus. There even appears to be a sort of "slow-mo targeting mode" so you can lay your beat down with precision.
Annnnnnddd.... KINECT! With sensors that pick up sound and motion, and featuring 3D depth sensors, an RGB camera, motorized tilt, and a multi-array mic, this device looks to be vying for some of Nintendo's Wii fanbase (so, nintendwhores and middle-aged yuppies). In the initial demo, we see that one can sign in with a simple wave, Kinect recognizes you and signs you into your Xbox Live account. You can also navigate (on a basic level) through the Live menu using voice commands. In addition, using Windows Phone 7 (because people have that, right?) you can connect your cell phone to your Live account. VideoKinect looks pretty promising, you can live chat with friends and family using Live or Windows Messenger, and even watch videos together. It also tracks your movement and automatically follows you if you move around the room- no adjustments required on your part!
ESPN has signed an exclusive agreement with Microsoft to offer Live members thousands of live and on-demand games in HD. They will also offer trivia you can play with your Live friends as you watch the game. Best of all, if you're a Gold member, ESPN on Xbox 360 is completely FREE. I love that word.
Finally... called it! Microsoft has announced a new, Xbox 360 "Slim" (no official name given the system, other than "The New Xbox 360"). It's a smaller, more streamlined console, sporting a deep glossed black finish, built-in WIFI, a massive 250 GB hard drive, Kinect-ready (naturally), and with a very friendly $299 price tag. This baby shipped to retailers on June 14, 2010 and should be available for purchase later in the week.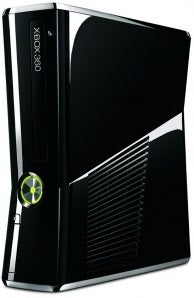 Watch the whole thing online, at
gametrailers.com